BioNJ Manufacturing Briefing 2022
Newark, NJ. September 9, 2022: Delphine Diagnostics' CEO, Andy Bala, attended Manufacturing Briefing 2022 at NJIT and NJ Innovation Institute, both in Newark, NJ. The event was in-person and organized by BioNJ. 
BioNJ, McKinsey, a few big pharma firms, and FDA came together to share forward-looking updates relevant to the BioPharma manufacturing space for the next two years.
The highlights of the event were presentations, Q&A sessions, networking, and a walkthrough of McKinsey's Digital Capability Center- touted as a Digital AI/ML Capability Center – Demonstrated by McKinsey's team, which was meant for Scientists/Technicians in manufacturing space to learn/hone the needed skills. Andy Bala said, "It was a wonderful event to hear about the manufacturing strategies for the near future and how we can adapt and accelerate along the way. It was also a great networking event, and we found prospective partners to manufacture our Sepsis Diagnostic Kit locally here in New Jersey. "
More info about BioNJ and its upcoming events can be found at the following link: https://bionj.org/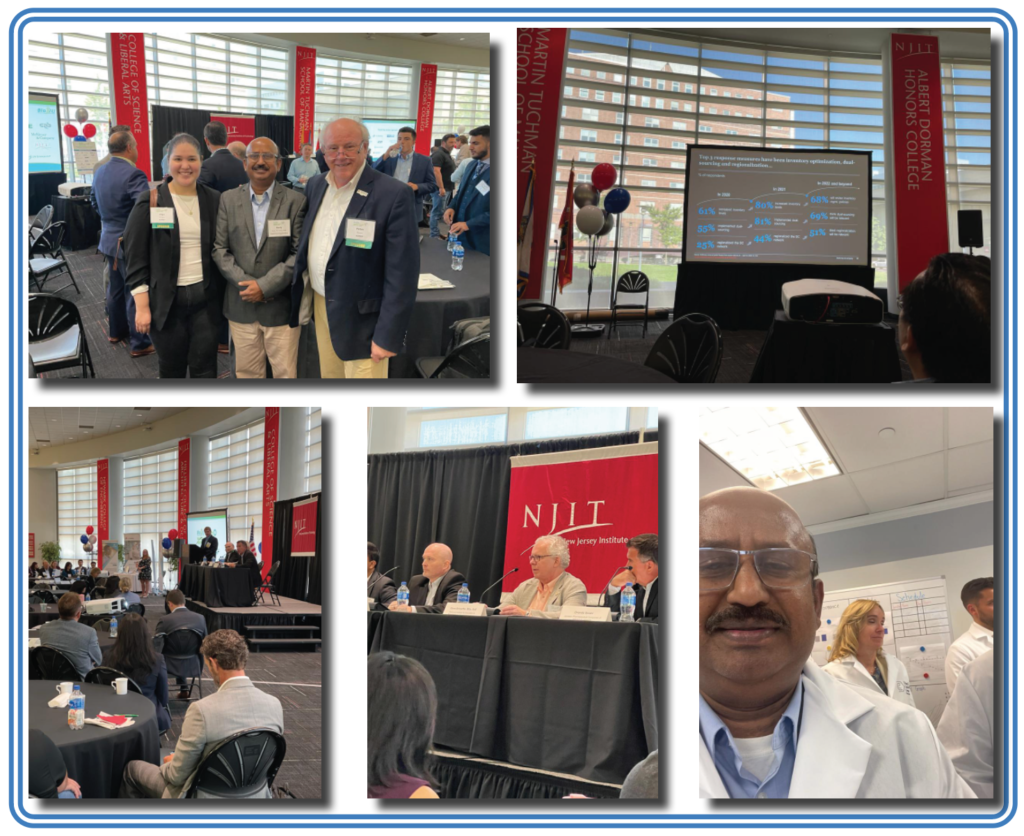 DELPHINE DIAGNOSTICS INC BECAME AN INAUGURAL MEMBER OF THE SEPSIS INNOVATION COLLABORATIVE (SIC)
Great news from the Delphine team!
Delphine Diagnostics accepted an invitation to join as an inaugural member of the Sepsis Innovation Collaborative (SIC) led by Sepsis Alliance. Delphine's CEO, Andy Bala, stated that "we look forward to serving by volunteering our time and talents to provide the latest research and marketable products to clinicians and patients. Delphine's research and development team is committed to providing high-quality data for research and analytical purposes produced by our daily operations.​"
More info about SIC: https://lnkd.in/g5Gnipjz
Sepsis Innovation Collaborative (SIC) is a multi-stakeholder public/private collaborative launched by Sepsis Alliance that brings academic, clinical, industry, patient advocacy, reimbursement, research, and other stakeholders together with the common mission to address the challenges and unmet needs related to infection management and sepsis prevention, detection, treatment, and survivor support. SIC members:
– Facilitate public-private communication with U.S. government agencies on opportunities to accelerate innovation
– Develop a common sepsis lexicon
– Connect longitudinal sepsis patient and survivor data
– Improve equity across the infection management/sepsis continuum in underserved communities and vulnerable populations
– Accelerate the time-to-market of novel products and services
– Address the long-term healthcare challenges of sepsis survivors
#sepsisawareness #collaboration #delphinedx #healthcare #opportunities #innovation
————————
BIONJ'S TWELFTH ANNUAL BIOPARTNERING CONFERENCE – 2022
New Jersey, May 9, 2022: Biotech Industry Association in New Jersey 'BioNJ' had organized a BioPartnering networking event on May 9, 2022, in Liberty Park, New Jersey, across from New York City. Johnson & Johnson and JP Morgan chase were major sponsors of the event. Andy Bala of Delphine Diagnostics was invited as a guest of BioNJ and developed a few contacts to further Delphine's business interests. Click here for more info!

———————————
THE STATE OF THE STATE OF MANUFACTURING – 2022
Trenton, NJ, May 5, 2022: Delphine Diagnostics Inc's CEO, Andy Bala, attended the State of the State of Manufacturing. The event took place in Patriots Theater at the Trenton War Memorial. Andy Bala said, "It was a great initiative to start a dialogue with New Jersey State Legislators and share feedback regarding challenges faced by startup and small to medium-sized manufacturers based out of New Jersey. Absolutely it was a value-add event with two clear goals, driving more diversity in participation and more effective engagement with State Lawmakers in the future at Trenton, NJ."
More than 400 New Jersey manufacturers gathered in person in the Town Hall style gathering to discuss the challenges and concerns of NJ Manufacturers. More information about NJMEP is below.
Richard Weber of Ethos Biosciences (left), Peter Russo of NJMEP, and Andy Bala- Delphine Diagnostics (right)
New Jersey Manufacturing Extension Program, Inc. (NJMEP) is a not-for-profit company that works with New Jersey's small to mid-sized manufacturers to help them become more efficient, profitable, and globally competitive.